Friday night went out with Sascha and some Birchwoodies to 'Art Attack 08' at the Northrup King building. One of two highlights was 'Eduardo Blidner: Argentine Drag Queens' featured in City Pages. In addition to the black and white portraits, a drag queen was DJing, and there was a lot of buzz around this exhibit. The other was Eleanor McGough, whose abstract acrylics I really enjoyed. It's good to know the arts and environment in Minnesota will have a reliable source of funding now!
Some of us were getting hungry, thirsty and/or tired of being on our feet, so we headed over to Grumpy's downtown for refreshements. There's nothing a Surly Furious and tater tots can't fix! I was really liking that Furious - very hoppy. We marvelled at Todd's 'Elvis' burger, with peanut butter and bacon. Sascha and I bailed early, and I tried to get some sleep before the Velodrome Cyclocross race on Saturday.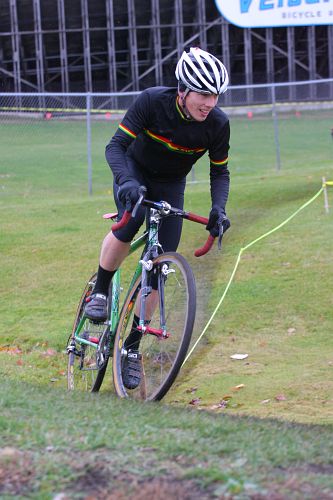 I almost didn't make it out of bed for the journey to 'real America,' land of Bachmann, but I decided I'd regret it if I didn't. Even if I didn't feel like racing, I wanted to hang out with my cycling friends, and Meow was making cookies! Teammates T3, Owen, Mario, Ray and a new guy showed up, as well as a good chunk of the usual suspects, so I'm glad I went. I was cold and windy, but the course was super awesome, even awesomer than last year if that's possible, due to some changes suggested by Jason Prudhom. Added were some twisty turns, and deleted was being forced up and down the off camber section. Both of these changes made for an even better course, and one of my favorites of the year, easily. I started at the back and stayed there, while Mario and Owen battled at the front, with Mario taking second (picture from Skinnyski)! A lot of fun, but I only stayed around for a little while since it was cold when you're not racing! It was great to hear the cowbells and people cheering, in spite of the cold.

Today I was up early-ish again, this time volunteering for NIP raking leaves for seniors. This is part of CorePower Yoga's 'karma yoga project' which takes the intention beyond the mat. I was hoping we could get enough leaves together to be able to jump into a big pile, but the house my group was assigned had a teeny yard, alas. We finished quickly and met up with another group at a bigger yard, but they'd already finished too. Oh well. Then it was off to an advanced yoga class, my first since breaking my collarbone. It feels good to be strong and flexible again, and sweating buckets is always cathartic.

It's supposed to be 24 degrees tomorrow morning at 7am, wind chill of 16. I intend to ride. We'll see how that works out... Speaking of which, what kind of tires do people use for winter commuting?