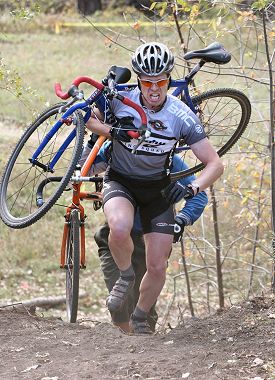 This turned out to be a great race! Being overly familiar with Boom Island from the Wednesday clinics, I wasn't looking forward to it, but I always do better on the second day of these double header weekends. And may I say again how cool it is that there are back to back cyclocross races every weekend throughout the season?
__The course was very flat, technically easy and fast, a roadie's delight. They mixed it up from the training course quite a bit though, with lots of fast grassy and gravelly sections through the lower part of the park, and the two runups and hairpin from the training course. I ended up getting a good start and led the field to the gravel road, so I figured I might as well dig in and make an effort. I was yelling at myself the whole race: 'You've got the lead, don't fuck it up! Keep the hammer down!' It helped to have Super Rookie and others cheering for me too - it really does help! Thanks to all!
__Being in the city, the field was huge, there were lots of spectators, good beer from Rock Bottom, and lots of cheering and some hijinks, making for a Portland-like festive environment. This all inspired me to do my best, and guess what place I was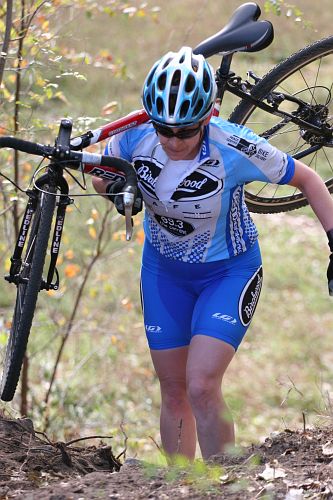 in? 9th! A-frickin'-gain! However with such a huge field and knowing I did my best, I was perfectly happy with that. I even got my picture with a suitably menacing pain face on the front page of Skinnyski! (All photos from Skinnyski.) Lynne did well too, in spite of spraining her thumb in Duluth yesterday.
__The B race had some exciting racing, with Linda Sone and Bella Margot battling it out, a Team Awesome civil war between Peter and Super Rookie, and Karla battling her bike as much as her competitors. Speaking of bike issues, Morgan was notably absent after mistaking his cyclocross bike for a downhill bike at the ski run in Duluth yesterday. That poor bike! I'm taking up a collection for bike maintenance classes for Morgan... Even Tuffy showed up to watch!
__We stayed for the whole A race this time, and I've got to give it to the A racers: cyclocross is hard, a half hour of pure sweet hell is harder, and a whole hour is worthy of great respect! There were some good battles there too, and I got a closer view of the who's who of the Twin Cities racing scene. From what I could remember after three or four of Rock Bottom's finest anyway.
__And what could be better after a hard race than a nice meal at Category 6 sponsor Town Hall? A great weekend of racing!